The end goal of an SEO-driven SaaS content strategy is not TRAFFIC.
It is the conversion (such as signups, free trials, etc.) that matters most for almost every product business.
Not sure how to plan your SEO strategy that drives conversion?
If so, you'll find this guide useful.
Today, we'll cover what BOFU content is, how to plan a SaaS content strategy for higher conversions, and real SaaS examples from companies like Notion, Zapier, etc.
Let's dive right in.
What Is The Bottom-of-The-Funnel (BOFU) Content?
BOFU content is the type of content that helps prospects make buying decisions. This includes creating more product-centric content types such as case studies, product features, comparisons, SaaS landing pages, etc.
Generally, a buyer goes through three different stages:
Awareness
Consideration
Action
And the BOFU stage is the closing stage that turns a prospect into a paying customer for a SaaS company.
SaaS Content Strategies To Drive Actual ROI
Now, let's understand the key strategies that will help you create BOFU content for conversions.
1. Start With Bottom of The Funnel Content
One of the SaaS content marketing myths is that your company has to produce content for every possible buyer stage.
Simply put: You don't need to create content for every buyer's stage, especially when starting your content marketing journey.
Yes, creating informational content helps you get traffic and conversion. But brands that don't have huge budgets and resources should start by creating conversion-driven content to maximize their content ROI.
Another way of thinking about this is when you create BOFU content, you're targeting the prospects who are already aware of their problems and actively looking for solutions.
Note: There is nothing wrong with creating content for each funnel stage. But when you're starting with content strategy, it is better to cover the BOFU content first to get the most out of your content effort.
2. Product-Led SEO
In general, you create content and add CTAs within the page to drive users from one stage to another. But in the case of product-led SEO, your software or application is an integral part of the content.
And SaaS companies have the advantage of implementing product-led SEO for growth.
Let us cite some examples of product-led SEO strategies:
1/ Zapier's Product-led Growth
Zapier is an automation tool available with over 5000 app integrations. Here, Zapier has used the integration pages to create a content moat that is hard to replicate by competitors.
And they have optimized every integration page with optimized metadata.

As a result, Zapier is ranking for important search terms like →
Calendar apps (24k monthly search volume)
Call tracking apps (4.1k monthly search volume)
Event management apps (1.5k monthly search volume)
CRM apps (9.6k monthly search volume), and so on…
2/ Glassdoor's Data-driven Product-led SEO
Like Zapier, Glassdoor has the advantage of users' reviews and survey results. Now, instead of creating long-form articles, Glassdoor decided to turn its data into useful content.
An example:
Let's first look at the comparison page of Hubspot vs salesforce:
The above page is a result of using user-generated reviews about a company. Glassdoor didn't create any statistics or write on-page content.
All they did was use their internal users' data to create SEO-optimized pages that are useful to the target audience.
This strategy alone is helping Glassdoor to dominate keywords like:
Google vs Apple (200 monthly search volume)
Microsoft vs Google (350 monthly search volume)
HDFC vs ICICI (700 monthly search volume)
Cognizant vs TCS (400 monthly search volume), and 100+ other search terms.
The benefit of this approach is not only more traffic, but this also helps Glassdoor acquire organic backlinks over time.
Action Items →
To implement product-led SEO, you don't need to necessarily write long-form articles to drive traffic and conversion.
Most SaaS companies have the advantage of having access to product databases, internal data, user reviews, etc. Think of using the asset to build content most aligned with your SaaS offerings.
Ensure that your SaaS product is a part of the content (e.g., In the case of Zapier, their app integration page is the content for the audience. Hence, a higher chance of conversion)
3. Create Landing Pages Targeting Different Audience Segments
One of the common mistakes of SaaS websites is not creating enough landing pages for their product.
In the worst cases, the SaaS website doesn't even have a single landing page. Instead, it uses the home page to showcase the product and its features.
Problem with this approach?
Chances are your SaaS product has multiple use cases, and the audience segment can be categorized into multiple buckets.
Therefore you should have multiple pages covering different segments individually.
Notion is a B2B SaaS company that leverages this approach amazingly.
Here's how:
Notion has built 10+ landing pages for different audience segments, such as:
Notion for remote workers
Notion for a manager, etc.
Benefits?
Target multiple audience segments and keywords with one SaaS product
Higher conversion rates, as the page provides a personalized experience to the end prospects
Sharing another example of how Asana built landing pages for a single SaaS product with many use cases and audience types.
Action Items →
Make a list of all the product use cases and target audience segments.
Next, prioritize the list by search demand, relevance, and intent.
Create and optimize the pages with the right keyword
Add links from the navigation or home page to make them easily accessible
4. Must-Have Content Types For BOFU for a SaaS Business
There are certain types of content that work well for a SaaS business to turn visitors into paying customers.
Let's discuss each of them one by one.
1/ Brand Alternatives
Chances are you already have many competitors of your software or brand. At the same time, people are looking for alternative solutions.
Type this into Google: [your competitor's brand name] alternatives
This way, you'll find opportunities where you can showcase your product to customers who're looking for alternative solutions.
Here's an example from Appsumo:
Appsumo has published 50+ articles targeting alternative search terms. And they are on the first page for keywords like:
Free Grammarly alternatives
Imgur alternatives
Zendesk alternatives, etc.
This way, Appsumo is driving qualified traffic that has high intent to buy product alternatives from their marketplace.
2/ Comparison Pages
Another common content type is product and brand comparison pages. In the BOFU stage, a prospect is most likely confused about which brand/product to choose for the requirement.
As a result, people search for something like:
Brand 1 vs brand 2
Compare brand 1 with brand 2, etc
Now, targeting these search terms will not only help to steal your competitor's place but also helps your audience to make the buying decision.
Let's take some examples from Asana.com (a project management software).
There is search demand for queries like:
Asana vs Monday
Asana vs notion
Asana vs slack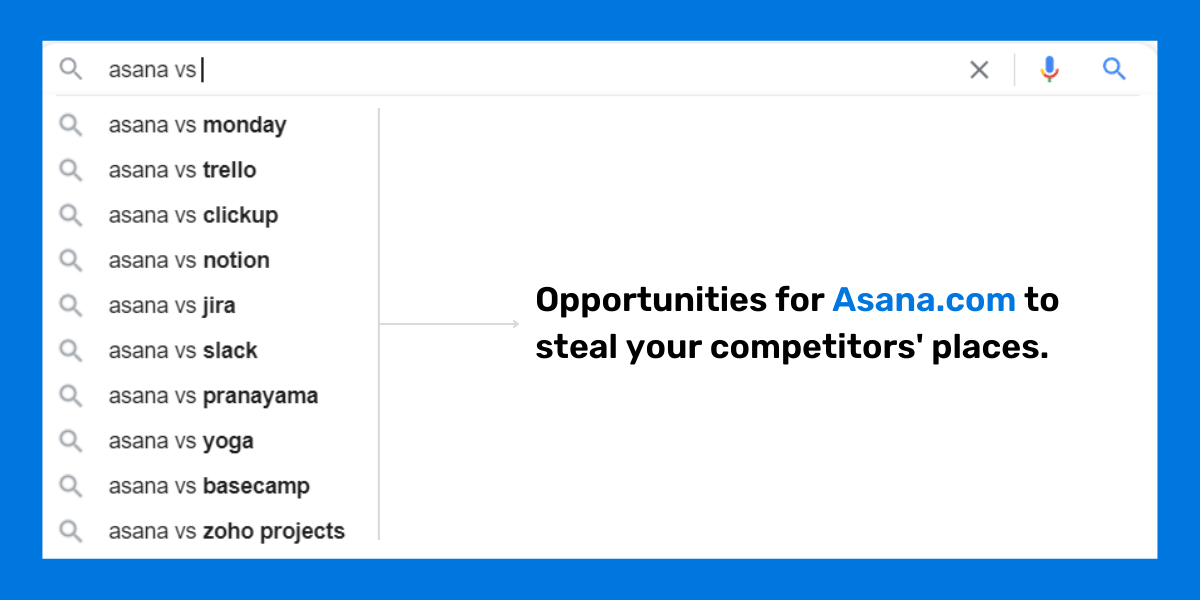 That means prospects at the BOFU stage are confused to choose the right product between Asana and its competitors like Notion, Jira, Monday, etc.
To capture this search demand, Asana has created comparison pages for most of the competitors.
Action Items →
Create a list of competitors in your industry (use SEO tools like Ahrefs or research Forums to find what people are looking for)
Prioritize the list by search demand and relevance
Optimize the page for the target keyword
Note: To get your BOFU content on the first page, you should focus on SaaS content writing service providers that deliver well-researched and optimized content for SEO. If you're not sure where to find expert writers for general blog articles, check out our article writing services and see how our experts can help you create content that converts.
3/ Customer Success Stories
A case study is an underrated content type that many businesses focus on at the last stage.
Especially in the SaaS model, you need to have case studies or success stories as sales material to build trust and credibility.
In simple words, creating content for traffic isn't enough if the conversion rate is low. Consider creating a series of case studies that include the role of your SaaS product in its success.
Key elements of a successful case study:
Title [Driven by quantified results]
About the business/ customer [Give a brief introduction about the customer]
Challenge [Highlight the key challenges and problems your customer had before using the product]
Solution [Instead of giving a step-by-step process, focus on showing the role of your product in the process and ho]
Testimonial [Reviews with the quantified result is preferred]
CTA [Link to the sales page or 'free trial' page]
For reference, take a look at Semrush's case studies page here.
5. Think Beyond Conversion
Other than conversion rate, most SaaS companies struggle with customer churn rate.
Therefore, retention is equally or much more important than acquiring new customers.
And the good news is you can create supportive content that helps in customer retention.
Here's how:
Build a knowledge hub for your existing customers that helps in:
Onboarding
Solving product queries/troubleshooting
Using the product (useful when the product is complex in nature)
Explaining various product use cases
In fact, almost 1 out of 2 customers prefer getting product-related support via a knowledge hub or FAQ page, according to the study of eConsultancy.
Refer to this guide to learn how to build a knowledge hub in easy steps.
Final Words
In this guide, we have covered the content strategies that every SaaS business needs to focus on to drive traffic and higher conversion.
BOFU content helps you acquire more paying customers and improve the customer churn rate. The best approach is to start your SaaS content strategy with the BOFU stage to avoid the wastage of resources and budget.
Hope the strategies mentioned in this guide help you in your SaaS content marketing.