Email marketing! Email marketing! Email marketing!
You can't neglect the fact that email marketing is the heart and soul of every online business.
Don't believe us?
Here are some facts by HubSpot:
40% of marketers say email newsletters are critical to their content marketing success
73% of millennials prefer communications from businesses to come via email
99% of consumers check their emails every day
Okay, these facts show us that emails are a great way to communicate with your customers.
But what about the profitability of email marketing?
Can it help you generate those huge profits you always dreamt of?
Well, we looked around for some more facts to show you just how powerful email marketing can be:
For every $1 spent on email marketing, businesses generate $32 in ROI. (Oberlo)
Conversion rates for emails are higher than social media, direct traffic, and search traffic. (Smart Insights)
59% of marketers cite email as their number one source of ROI. (Emma)
Email offers result in shoppers spending 138% on their purchases. (Disruptive Advertising)
Now, this settles the importance of email marketing but still doesn't answer what all should be taken care of while growing your list.
Before we get into that, let's understand what email marketing is.
What is Email Marketing?
According to Digital Marketer, "Email marketing is the strategic use of email to promote your business or products."
Nowadays merely having a website is not enough. You need to drive traffic to your website too.
And how do you drive that traffic?
Well, through creating unique and high-quality content. If your audiences like your content, then they'll do what your content tells them to do:
Suppose your website sells an ebook; if a reader really wants the information in the ebook, they'll sign-up for that content.
And that's where email marketing comes in.
Well, email marketing is an arm of online marketing wherein a user shares their "online address" – their email id with you so you (or your business) can communicate with them.
Sounds great, right?
When a user willingly gives their email to you, what you're doing is gaining their trust. You won't just randomly give your email address to anyone, now, will you?
Just like we give our phone numbers when we visit offline shops, we give our online address to the websites we like or trust. Sharing an email address means that we want to sign up for that content or that we want to buy that product, service, ebook, course, etc.
Now you might think, okay, I understand the importance of building an email list and I also built one over time. Now, how should I manage this list and grow it further?
Don't worry, we have some tips for you.
Just follow these 5 simple steps and you'll have a managed and growing email list of your own in no time:
1. Build a Community
No matter which vertical of business you are in, the main mission of your website should be to build a loyal community.
The advantage here is that you own this community.
You and they both know something about each other via this community, and this is what makes it easier to garner their trust. Depending upon your niche/industry, you should be building content around it.
Once your audience engages and relates to your content, they will automatically get inclined to share their email address with you. So align your content to make your audience like it.
2. Keep Things Clean
List-hygiene is an important factor that many businesses fail to take into consideration. To help you achieve success for all your email marketing efforts, your list needs to be clean.
And keeping your list clean entails getting rid of all the emails that fall into the following categories:
Email addresses that are spelled wrongly
The emails that are duplicate of other email
Invalid email addresses
Email addresses with high bounce rate
It is common for any business to get invalid email addresses in their list. This is because users tend to make mistakes while putting in their email.
So, it is a good practice to clean your list a few times a year. But for best results, try cleaning your list whenever you feel like your bounce rate is spiking more than usual.
3. Guarantee Privacy And Ease
We're living in times where we question if our data is really ours? Once you have their email, make sure you don't spam them unnecessarily.
If you do, they can unsubscribe easily, and you'll lose a potential customer. So make it easy for them, too. In a rush to build an email list, don't walk over ethics.
Stick to the reason "why" they enrolled as your subscriber, nurture them, understand their pain points through emails and their feedback and then pitch your product/services.
4. Don't Oversell
The primary reason you build your email list is that you want them to stay focused and prefer you over other brands. But that doesn't mean the day you get their email, you promote your products and services to them.
Don't overwhelm them.
Encourage your subscribers to reply to you with their feedback, insights, through each email. You might just develop a unique product/ service based on their feedback!
5. Use Your Unique Selling Point (USP) in Every Email
One of the best ways when building your email list is to always visualize your business's unique selling point (USP). All your content, be it free or paid, should reflect your ideologies. Even if the aim of a particular email is to generate sales, be very clear with your CTA.
Tip: When building your email list, always take your subscriber's feedback and opinions.
You are making an online relationship, so nurture that relationship. Gain their trust by answering their queries and doubts and solve their problems.
They'll naturally and eventually convert into loyal customers of your product/service.
How Can We Help You?
Apna Writer has a dedicated team of email writers and editors who have years of training providing professional email newsletter writing services to thousands of clients.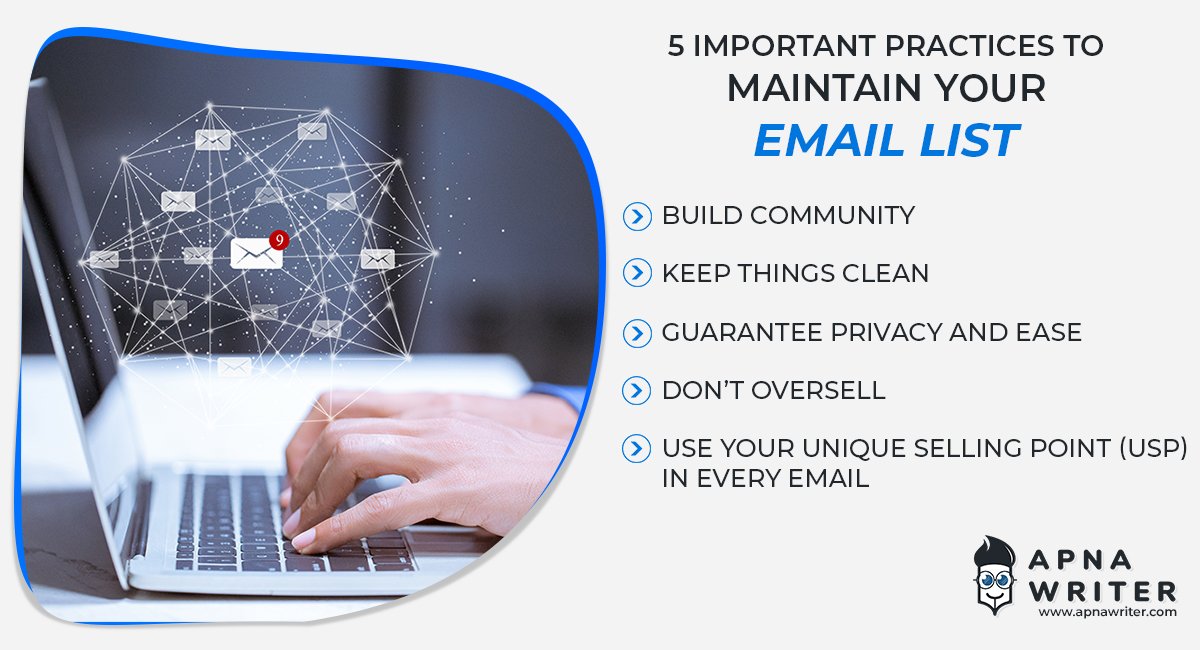 Whether you're stuck at a stage where you are building your email list or whether you are contemplating on how to grow your email list, we'll help you strike the right cord on how to build your business through email marketing!
We will make sure you get to use the right mix of copywriting and storytelling to effectively build your own email list or further nurture the one you already have.
Let us know how you are building your email list in the comments below.