"A good tool improves the way you work. A great tool improves the way you think." – Jeff Duntemann
As content writers, we cannot underestimate the meaning of this wonderful quote.
Just imagine:
If the carpenter doesn't have the proper tools to carve the design of the furniture, can the carpenter deliver amazing furniture?
No, right?
Even if the design and layout are beautifully crafted, the final output of the furniture will be a failure.
Similarly, every content writer, no matter how well he/she writes, needs to have a few tools to improve their content.
What are these tools?
Can they really be effective?
Can your content writing game go on to the next level with the help of some tools?
Let's find out.
Researching Tools:
The most important step for content writers before they even begin drafting their content piece is their research method.
We at Apna Writer focus a lot on researching for the article writing service that we provide. Without proper research, they may lose the whole intention of writing the article.
So to avoid that from happening, as a content writer you can use these tools that will help you in research:
Google Trends: Google Trends is a great way to find out what's trending. You can search and write an original piece of content around those trends.
This benefits you in two ways: One being that there are people searching for more information about that content, and second is that you don't have to look for your readers. They come to you.
Quora: One of the still under-tapped secrets for research while writing is Quora. It is a lot more than a simple platform for finding answers.
There are still thousands of questions left unanswered on Quora, with maybe a million of us looking for the answers to those questions. Dig and research about your topic on Quora.
Using Quora as a content writing tool is one of the most clever ways to tap into the market.
Other amazing tools for content writers that you can use for researching your topics are Reddit, Twitter Trends, AnswerThePublic, BuzzSumo, etc.
Headline Tools
Now that you've researched the topic you want to write on, the next and the most important step before writing the content is to craft a good headline.
This is because if the headline doesn't motivate the visitor to click and find what's inside, all your content writing goes to waste as it might never get read.
So two great tools that can help you with writing amazing headlines include:
HubSpot's Blog Topic Generator: A great tool from the leading organization about content marketing.
Just go to the website and type in your search query or keyword. They offer you 5 free blog ideas with the free version and if you want more, you must purchase it.
This is a good way to come up with a fresher perspective of an already written article.
Portent's Content Idea Generator: This is just another great website whereby you can create interesting titles for your blog posts, videos, or podcasts.
Just enter your keyword and their intuitive idea generator will give you some amazing suggestions that you can take inspiration from.
Another best tool a content writer can use is the Headline Analyzer – which literally analyses your headline and gives you trending title options.
Writing Tools
After you've shortlisted an interesting headline the next step is to start writing your content and the tools that content writers can use to write are:
Google Doc: This is one of the best tools out there to write content. Since it is cloud-based, what you create will always be stored in your Google Drive.
Also, you can share your doc with your team members and suggest or comment on the document for others to check and make edits.
It also allows you to publish your content on the web just like a normal blog that you can share with whoever you want.
Airstory: Airstory helps you write big content faster by putting all the pieces in one place​.
It has tabs to help you create content without having to shift your focus towards any technical glitches.
It is a flexible writing system that combines your notes with a powerful outliner-slash-document. Other content writing tools that content writers can use are MS Word and Evernote.
Editing Tools
"To write is human, to edit is divine." – Stephen King
Editing is as important as writing content, in fact even more. Unless your properly structured article undergoes a rigorous edit, the content is just floppy.
Few amazing content writing tools for editing are:
Pro Writing Aid: This is a good competitor to Grammarly. Just install a Chrome extension or go to their website and paste your content.
This tool analyses the grammar, spelling, verb, punctuation, voice of the sentences, and their suggestions are very handy and most of the time, to the point.
Copyscape: Copyscape is a plagiarism tool where you can check if any content that you've written or researched is plagiarized or not.
It's always in-depth and spots, even the slightest error.
Other content writing tools a content writer can make use of while editing is Grammarly.
Also, using websites like Power Thesaurus, or Dictionary, you can synthesize your writings in a better way and give it a proper and more concise meaning.
Free plagiarism tools like SmallSEOtools can also be used. Not only for articles but you should also use these tools while publishing your website content.
Beautifying Tools
Apart from the article being good to read, it is highly important that the entire article looks good as well.
For that, we've got a few tools that content writers can use to beautify it. You don't have to be a skilled photographer or an amazing graphic designer to beautify them, because these tools are very simple and easy to use:
Canva: Canva is one of my favorite tools amongst all other content writing tools.
It is easy to use and gives you the opportunity to explore and experiment with your creativity.
Most of these templates are free and you can explore it to create catchy and cool graphics for different social media platforms, magazines, blogs, and now even videos.
Unsplash: A photo website where you can navigate through millions of copyright-free photographs under their Unsplash license.
All the photos are of HD quality. Just make sure you credit the owner appropriately.
Other content writing tools you can consider using to beautify your content are websites like Pixlr, Pixabay. Alternatives to Canva are Photoshop, Desygner, Stencil, and many more.
Bonus Tools
Googling your way to important content writing tools:
Other important tools for content writers while writing on Google Doc is:
Voice typing feature: You can locate it on Google Doc's 'Tools' tab.
Just click that and start voicing out your ideas/opinions while you are researching.
What you say will be transcribed, which will save you a lot of time and also will literally immortalize your ideas while you are thinking.
Document Outline: Most of the time an overlooked feature is this one.
The importance of this content tool for writers is that it helps you structure your content and not deviate from the core idea/intention of the article.
There are many other extensions every content writer can use along with Google Doc – like Google Keep, Docs Tools, Dictionary, Fonts and styles, Translate, and many more!
The 'Write' Way
Obviously, these are just the crux of the many tools that content writers can use.
But irrespective of how many tools are out there, it is how you use the tool to reap out its benefits.
Here, at Apna Writer, we make use of all these tools.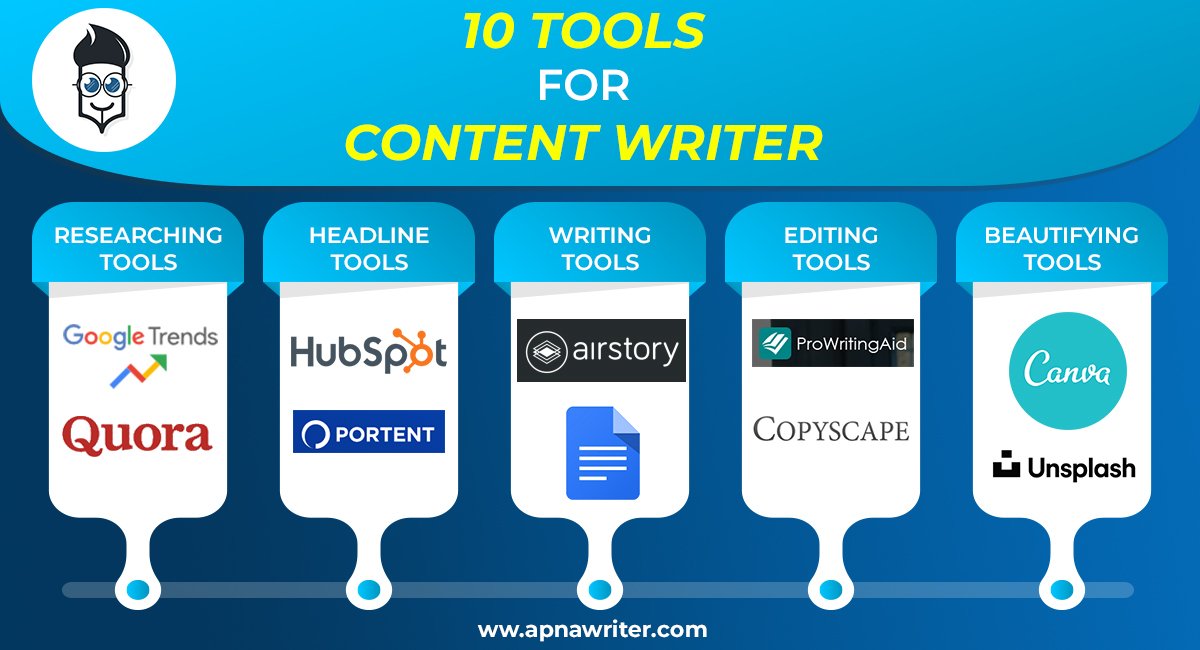 So if you want well researched, well structured, and well-edited content for your business, reach out to us by filling up the form here.