Generating quality content is the need of the hour. It helps businesses in staying relevant in the face of competition.
With 40% of the world population having access to the internet today, there has been a steady increase in the number of SaaS businesses. With so many companies providing more or less the same services, SaaS businesses are facing immense competition.
Therefore, sometimes, providing your clients with top-notch technical services may not be enough.
From developing solid business strategies to igniting your marketing efforts, running a successful SaaS business requires plenty of effort. You can easily scale a SaaS business with a proper content marketing strategy! However, coming up with solid content concepts may seem like a hard nut to crack.
Out of content ideas for your SaaS business?
We've got you covered.
Top  Content Ideas that Can Help Your SaaS Business
High-quality content can help you in multiple ways, including improving your brand image, influencing purchasing decisions, retaining the existing clientele, converting potential customers into regular clients, and more.
Here is a list of the best content ideas for helping your SaaS business:
1. Informative Blog Articles
The Internet is not just a source of entertainment but also a storehouse of knowledge. With many internet users browsing educational content, informative blog posts can help drive traffic to your website.
Blogs are one of the simplest and most convenient ways to spread the word about your SaaS business, its services, and the clients it caters to. Uninformative articles or randomized blog posts will not help you attract your target audience. Therefore, regularly generating and posting content on your niche area (SaaS) is significant.
Other advantages of starting an informative blog include building authority, backing up your social media campaigns, creating a positive brand image, improving your SEO rankings, boosting conversion rates, etc.
HubSpot is the primary example of how you can create a name for yourself in the SaaS industry via informative blog posts. They have gained recognition for their products, sales techniques, marketing efforts, and customer service. 
2. How-to Guides
How-to guides are significant in improving the customer experience. Technical guides disseminate knowledge and instructions rationally and clearly.
SaaS products may often be too complex to understand. Encountering difficulties in using a product may dissuade your clients from doing repeat business with you.
It is here that a how-to guide can come to your rescue. How-to guides help your customers in solving complex product-related problems with ease. However, how-to guides must be written in simple language. They should be target audience-centric and address pertinent and oft-faced issues.
A how-to guide should be such that it provides a satisfactory solution to the reader's problem.
Below is an example from Zapier's blog. Zapier is a workflow automation platform and in their blog, they have a separate category of guides and how-to articles.
3. Landing Pages
Landing pages are usually created for marketing, promoting, and advertising purposes. The link to it is circulated via emails, direct messages, and more.
The content on landing pages can make or break the deal for your SaaS business. SaaS organizations largely depend on landing pages to market their products and services, with few ways to market their products.
The landing page incorporates many elements. An ideal landing page should have a catchy headline, a user-friendly design, and relevant content. The content persuades a client to avail of your products/services. The content should be rich in keywords, call-to-action one-liners, etc.
Sometimes, a single landing page cannot cater to all types of audiences. You can create multiple landing pages to meet the requirements of your various target groups.
Each landing page should have a unique goal and must be centered around one business objective. Dedicating a separate landing page to each cause makes it easier for potential customers to access your content.
Multiple landing pages offer various other benefits, including easy navigation, a solid call to action, access to pertinent data about the target audience, visibility and traction, and improved online presence.  Some well-known brands, such as Canva and Shopify, have multiple landing pages for boosting their marketing efforts.
As you can see in the image shared above, Shopify has individual pages targeting a specific audience. For example, if someone is looking for a platform to sell shoes online, they would land on their 'Start, run, and grow your shoe business' page as shown below:
By creating these pages, they can showcase specific features relevant to specific user queries. Also, it helps them attract people searching for queries around hundreds of industries.
Therefore, get inspired by these established brands and launch multiple landing pages with quality content to gain visibility and improve sales!
4. Downloadable Checklists
Businesses often neglect the importance of downloadable checklists. However, downloadable checklists can be greatly useful in the lead-generation process.
Here is how CoSchedule provides downloadable checklists to help the users and generate leads:
You can have your target audience fill out a form with their contact details in exchange for pertinent technical information via downloadable checklists. Apart from providing you with leads, creating effective downloadable checklists can also help your SaaS business in multiple other ways.
Downloadable checklists help structure your content, create anticipation in your target audience about your blog, and more.
Providing your leads with useful information through the downloadable checklists can assist you in increasing site traffic, building trust, and converting potential clients into regular customers.    
5. Informative e-books
With most of the population accessing the internet, e-books are taking over paperbacks. Since people can access multiple e-books using one device, e-books are extremely handy.
There are multiple other advantages of e-books, including easy accessibility, quick updates, shareability, the sense of augmented reality, read-aloud element, interactive features, affordability, sustainability factor, etc.
Therefore, publishing technical e-books is a great way to attract your target audience toward your business. If your e-books gain the right amount of traction, you can launch paid e-books. Thus, your SaaS business can use informative e-books as a promotional tool and a source of income.
Also, e-books are one of the best techniques to exhibit your control over a subject or specialty. Moreover, as far as long content is considered, e-books fair better in the SEO department than lengthy articles. If you require ebooks for your SaaS business, you can Apna Writer for the same.
6. Quiz and Surveys
Technical content may seem uninteresting to some. An interesting way to engage your audiences with SaaS content is through surveys, quizzes, and polls.
Even though they're a part of the content marketing strategy, quizzes and surveys do not require as much effort. They do not require extensive typing or much thought.
Moreover, the conversion rate for surveys, quizzes, and polls is higher than for other formats.    
Check this form created by Zoho to target relevant audiences:
7. Case Studies
There is no better method to establish your lead than by setting an example. Creating a case study on how your SaaS products have made a difference in easing the workload of other firms is a great proof of the quality of your work.
Requesting loyal clients to provide statistics regarding your impact on their business is a great way, to begin with!
For instance, our SocialPilot SaaS Content Growth Case Study serves as valid proof of the kind of impact a professional content writing firm can have on the reach of a SaaS company.
Therefore, incorporate case studies in your saas content marketing strategy to gain traction. 
8. Podcasts
Podcasts have become the new ''it'' thing. They are conversational, easy to consume, and low-effort; you can listen to them anytime, anywhere!
SaaS content may often lack relatability. You can add personal touches to your business by employing podcasts as a digital marketing technique. It helps you interestingly communicate facts and figures. Therefore, you can use podcasts as a tool to attract a target audience to your SaaS business.
However, podcasts should be conversational, entertaining, customer-centric, and not extremely lengthy. 
Here is a podcast from XpertHR, an HR solutions platform:
9. Video Series
Since YouTube and Google have the same parent company, Google specializes in video content. With Google and YouTube being the top search engines, generating video content can assist you in gaining massive traction.
Video content also has several other benefits, including
Improved brand visibility and image
Increased exposure
Repurposability
Enhanced conversion rates and, subsequently, sales
Increased client engagement
Improved knowledge about products/services
Enhanced website performance
Videos should contain interesting elements to grab and retain the audience's attention quickly. Storytelling, music, colorful images, etc., are some of the most useful ones!
Creating a series would lend your business a sense of cohesiveness and make it look consistent, particular, and professional.
10. Comparison Posts
It is easier to read, understand, and remember information when presented in a tabular form. Comparison posts help your readers make an informed decision.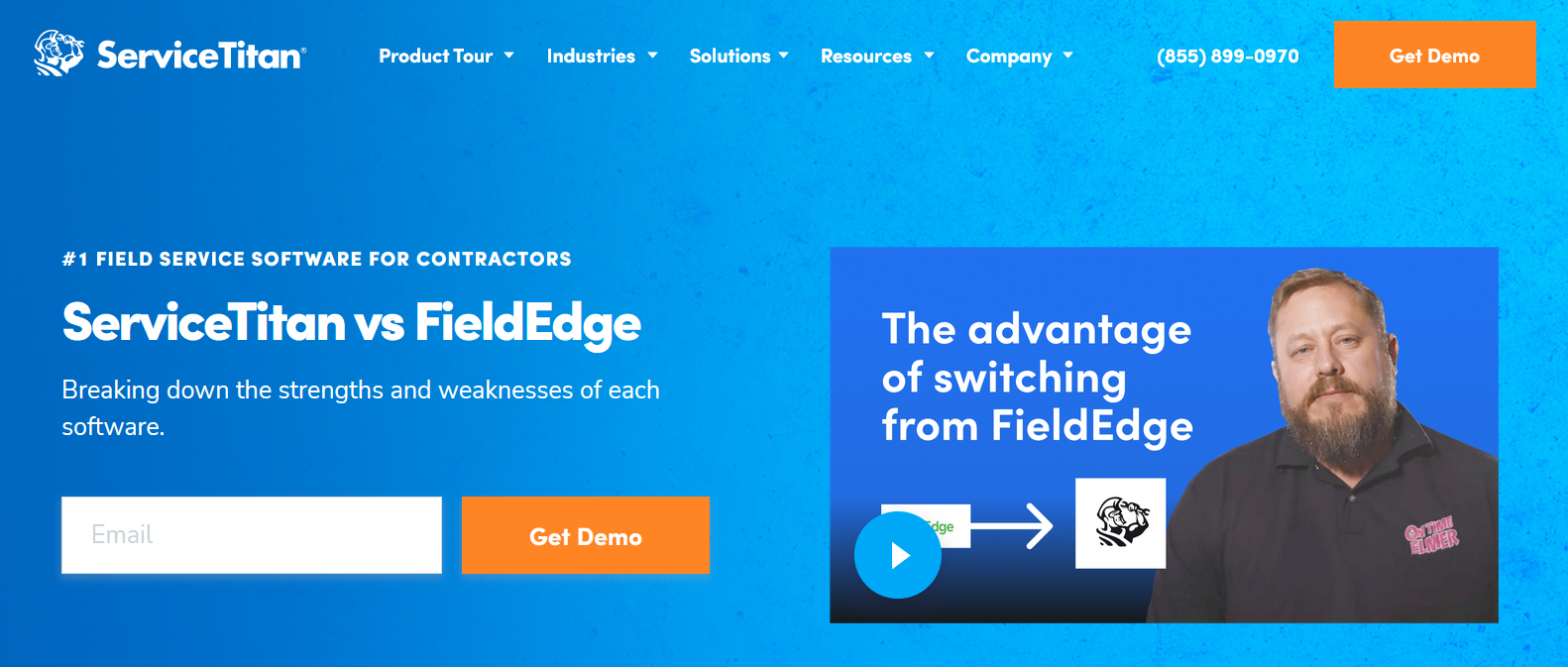 You can see the page above that ServiceTitan has created as a comparison post. They have multiple such pages to have a comparison with all their major competitors.
These posts also allow you to gain a competitive edge over the other leading SaaS companies. They help you build a positive brand image for your business. A comparison post also allows you to build a persona for your SaaS business by highlighting its unique selling point (USP) in the face of competition.
Therefore, creating quality content for comparison posts is your safest bet at creating a positive impression in the minds of your readers.
Conclusion
SaaS companies have only a few ways to promote their products and services. Content marketing is one of the best strategies to build an identity for your SaaS business.
However, creating quality content is no cakewalk. You must incorporate multiple elements to make your content stand out.
Your content should have the following components:
Originality
Grammatical precision
The essence of your business
Outline of the usability of your SaaS business
Well-researched facts and figures
Relevant keywords
Consistent formatting
Apna Writer's SaaS content writing services offer you all these elements and more. With 5+ years of experience in the content field, we can help you scale your SaaS business to new heights!
We possess the right content marketing skills to convince your target audience to choose you over your competition. We have covered you through it all, from creative advertisements to informative website content!
Get in touch with us for further discussions.